Mallion Rapide Link
Regular price
Sale price
$8.25 USD
Unit price
per
These zinc-plated steel links can be used as connectors for fall arrest, work restraint, work positioning, and rope access.
EN 362
Rod: custom-made steel used in surface processing, providing complete strength towards traction.
Nut: high safety steel (lead-free, systematic control carried out after drawing through Eddy currents and ultrasounds).
Surface processing made through electrolytic coating on the entire material (rod & nut).
Share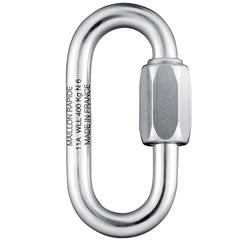 Looking for something else?
We process all equipment requests through our online store. If an item you need is not currently listed online or is marked as "low inventory" or "out of stock", please add an order note in the "Order Special Instructions" field at check out and we will look into sourcing the equipment for you. If you only have a custom request, please contact us.
Contact Us